Chrome Extensions help us to increase the features of google chrome. There are many extensions on google chrome store, but you may be confused which to install and which not to. So here I represent 5 best google chrome extensions that you must have. These extensions are very useful in daily life, and I have been using them for a long period of time. These are my personal favorites and I think it will be your's too if you start using them. They are very easy to setup and use and have the potentiality to make your life easier than before.
Recommended: Best ways to make money online staying at home
Top 5 best google chrome extensions that you must have:
The 5 best google chrome extensions and their download links are listed below:
1. AdBlock
Adblock is an extension that blocks ads while you are surfing the internet. It will block all the ads types like banners, popup, etc. Using Adblock will decrease the revenue of content creators but it is worth using it. It is one of the most popular adblocker that blocks ads from youtube, facebook, and other sites. AdBlock will make your internet experience greater and keep all those irritating ads away from you. You can also choose which site you wanna see the ads and on which site you don't.
2. LastPass:
LastPass is another cool chrome extension that helps you to remember and keep your passwords safe. It helps us to store passwords to it and you can access it anytime you want. You have to create a master password which is needed to access all the stored password. But you might think that is storing all password on that extension good? or won't my accounts be hacked? then don't worry, it is used by many people and many people have rated it to be safe at Google web store.
3. Grammarly:
If you are not good at grammar, then this chrome extension will surely help you while you message or write blog posts with chrome. It doesn't matter if you are good at grammar or not, just use this chrome extension and your grammar will be corrected by it. Grammarly not only corrects your grammar but also correct your wrong spellings. It can be useful for bloggers and social media ethicist who spend most of their time online.
4. Calculator:
Calculator extension is a chrome extension that adds a calculator to your chrome browser. So if you need something to calculate, you can calculate on the go, with this chrome extension. The calculator doesn't sound exciting but sometimes, it makes your life easier. It is very easy to use and can handle some normal calculations. The interface is awesome and attractive. Overall Calculator is a simple yet awesome extension, which is easy to use and worth installing.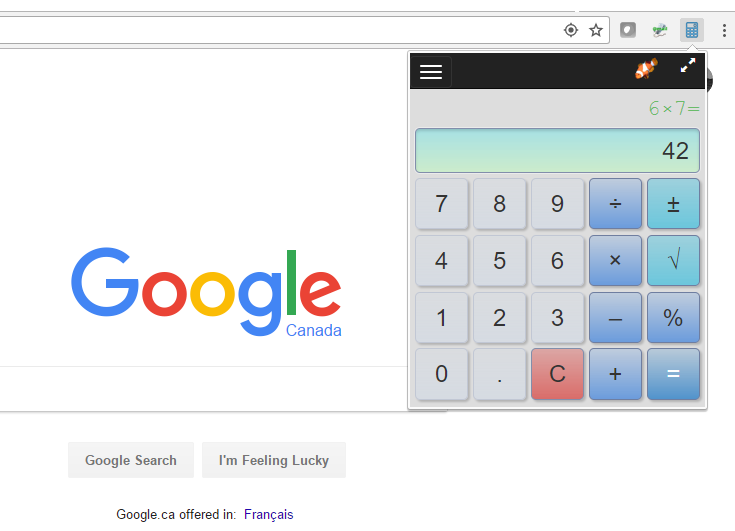 5. Goo.gl link shortener:
Goo.gl link shortener is one of the most used link shorteners on the internet. Its main function is to make the link or URL of any site or content shorter. If you share a lot of things on the internet, you can use this Chrome extension to make think shorter and less messy. The long and messy links are shortened into small and sweet one. This chrome extension is very helpful and makes daily works easy.
Top 5 best google chrome extensions that you must have, Final words:
These were the best google chrome extensions in my personal opinion. If there are other cool extensions for google chrome, then feel free comment it down below. And hope you loved this article and if yes, then be sure to share it with your friends. And until next time, bye.